Alice Yahn Estate Auction

Saturday, September 25, 10:07 AM
Ludwig Auction Center
19 Cross St, Falconer, NY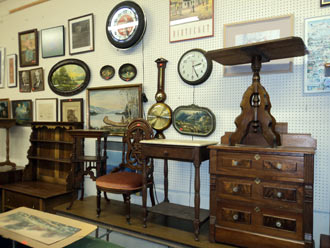 *** Click here ***
to view more images

Contact Chuck Ludwig
Cell # (716) 664-1020; Fax # (716) 665-6617
Ludwig Auction & Realty
(716) 665-6614
Email: chuck@ludwigauction.com .
Liquidating the Alice Yahn Estate and others incl:
Coins 10:07 AM: 1856 One Dollar gold piece; 2003 1/10oz gold piece; 1877 trade dollar; 24 silver dollars; Buffalo & Liberty Nickels; 1865 US 2 cent; 1901 half dollar; 1912 dime; silver quarters; mercury dimes; 3 walking Liberty halves; Indian Head pennies; Assort foreign; tokens; steel war pennies; US coin set
Furniture: Stickley 40" cherry hutch and drop leaf server; oak side by side; Thomasville lighted glass door cherry china/36"; Maddox 3 ½ ' book shelf; Drexel mahogany dining room set; corner cupboard, sideboard, 3' 4 drawer server; table/2 leaves, 5side & 1 arm chair; 3'7" gold leaf mirror; Union National bedroom set; high post bed, 2 bedside cabinets, 7' dresser; Jamestown Lounge dbl ped desk/British Oak; small oak corner china cabinet/lighted; Victorian stand, upholstered chair, 3 drawer chest and marble top table; early 1 drawer stand w/marble top; 46" oak server w/carving/backsplash; 22" sq leather top end tables; glass door cabinet/Diamond Furniture Jamestown; cedar wardrobe; Martha Washington sewing cabinet; round leather top table; early shelf unit; depression style china; pressed back/caned seat rocker; corner what not; Empire style library table; maple wagon wheel living room set; sleeper sofa, 2 chairs, 2 end tables, coffee table; maple twin hd boards; 42" glass door cabinet w/wainscot; 5 drawer mahogany chest w/backsplash/carving; smoking stand; lg selection of mirrors gold, wood, beveled; lg shelf unit; jewelry chest; kitchen set and more..
Unusuals: The Stereoscopic Skin Clinic by S.I. Rainforth w/viewer/76 cards/index sheet/1918; clocks/Seth Thomas 30 Day Gallery/Sessions mantel/Schatz Anniversary; J & W traction whistle; early copper/brass whistle; Boy Scout memorabilia: lg selection patches (Camporee/Jamboree)/pins/ribbons/lg selection mugs/neck scarves/cookware/clothing/Ulster knife/books incl: "Handbook of Scoutmasters 1927"; fishing lures, equipment; WWII military items; knives incl: US WWI combat fighting bolo knife 1912 w/sheath; Wilton Columbia Queen Anne pattern service for 4: dinner plates/luncheon plates/2 sizes goblets/mugs/cups/napkin rings, 2 candle holders, 2 Bicentennial plates; early copper fire syringe/Deakin ; copper fire extinguisher; Wahl & Sheaffer Junior fountain pens; lighters/some Zippo; jewelry incl: 10K gold, Weiss broach & hinged bracelet, lg selection costume/signed; crystal chandelier; wall sconces; pottery incl: McCoy, Hull, Haeger, Shawnee, Imperial, California; sleigh bells; Bud Dry Neon; depression glass/pink/green/yellow; Bossons hd painted wall heads; hd painted china; Nippon chocolate pots; candlewick; Wades collectibles; marbles; early games; Hall's Silhouette pitcher; early local pictures; student lamp/elec; Celeron Skateland memorabilia; Flintstone lunch box; framed oil on canvas/early charcoal/watercolor/prints incl: John George Brown 1894; leather doll body & Arranbee comp doll; 1946 Cartoonist Exchange course; Howard Miller & Taylor barometers; German porcelain candelabra; Jamestown Lounge wall shelf display; metronome; buttons; vintage Admiral sewing machine; ruby glass; pitcher & bowl sets; linens; "The Old Mill" pitcher; capodimonte; early view master 1938; flow blue; Players tin; piano rolls; great selection of lamps; paper incl: Frank Ashbrook Red & Blue Books of Birds; local autograph books 30's/40's; sheet music; Celeron & JHS Yearbooks; Abrahamson Bigelow 1935 Calendar; Jamestown/Westfield RR Time Tables 1935; "The Doctor In Art"; Album of Chaut Lake/L E Walker; 1946 card holder; primitives; oil lamps; early ping pong & badminton IB; Allegheny Ware china; standing ashtray; early 8' toboggan and much more…..
Miscellaneous: 34" HD TV; 9 X 12 room rug; desks; electronics; tools; lawn mowers; lighted showcases; skis; snowboard; sports collectibles; books; needlework; Independence Ironstone china; household and more…
Terms: Cash or check w/ID 10 % Buyers Premium MC/VISA
Call 716 640-1307 for info