Stauffer Estate
SALE
Antiques-Collectibles-Tools
Wedneday March 6 9AM-5PM (Tools)

Thursday - Saturday March 7-9
9AM - 5 PM
262 Barrett Ave., Jamestown, NY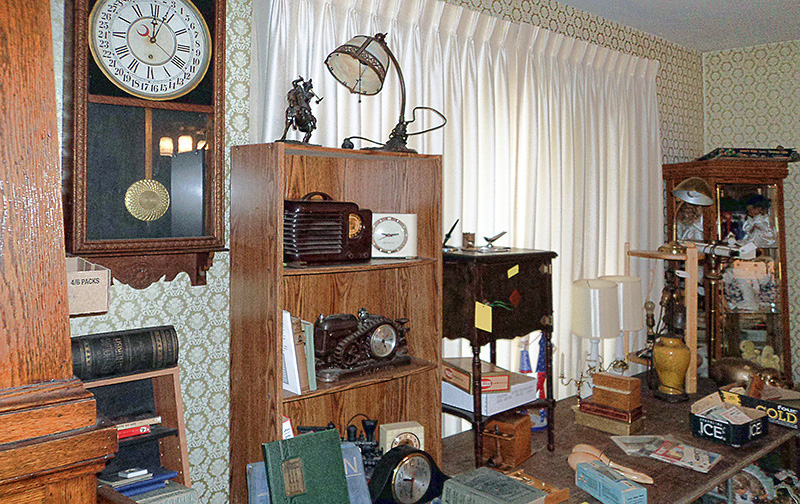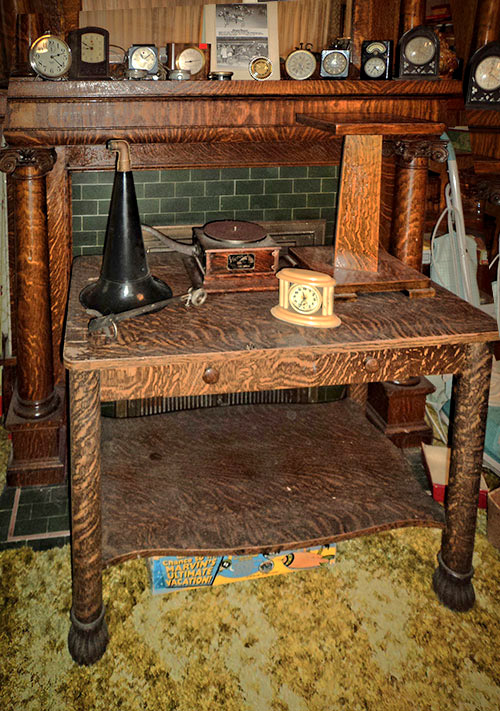 view more images below click arrows to advance images.
---
Liquidating, w/ a 4 day sale, an untouched, multi-generation estate: Early railroad, clocks, watches, paper, tools, glassware, furniture, jewelry & much more.....

Tools (Wed): Large selection of quality name brand power & hand tools incuding: Stanley, Craftsman, Delta, B&D & Rockwell: Champion Blower post mt drill; Penn State portable dust collector; Delta pedestal drill press; Craftsman & Delta table saws; bench top lathe, grinder, scroll & mitre saws; Delta 62-185 12" portable planer; Craftsman 6" belt/disc sander; routers; electric drills; circular saws; sanders & planers; 5000 portable welding torch; 2 ton chain fall; RR, roof & floor jacks; electric heaters; pot belly & wood stoves; custom built carpenters chest; Reese 5th wheel trailer hitch (like new); ext ladders; plumbing, electrical, masonry; garden tools & supplies; cutting torch gauges; wheel barrows; 36" lawn roller, edger & gas mowers; 20" hand reel mower; 8'used OH door w/hardware; 6' wall paper work station; plumbing hand snakes; 15 boxes 50lb nails; 15" truck & car steel rims & tires; 100's saw blades and box lots of nuts, bolts, screws, nails & hardware; Bowser drum hand pump; Coleman 3 burner stove; full & half sheets of plywood; Assort casing, molding trim & lumber

Unusuals (Thur-Sat): slag glass/figural desk lamp; Victor Type "R" Disc Phonograph; bronze sculpture/Warrior on Horse; 5'Flexible Flyer Racer; Northland wood youth skiis; Schwab Safe ca. 1900; 1940 Curtiss Wright Aviation overalls/pay stubs/photos; 1880 stamped brass powder flask; 1933 Toddy Advertising Premium/5 puzzles; Farnsworth bakelite radio; Tom's Toasted Peanut Jars ca. 1926; rare miner's oil wick cap lamp ca 1900; marbles; advertising tins; early shaving incl; Fat Boy, Vibro Shaver IB, straight edge razors, blades, sharpeners & leather razor straps; 4 outstanding early 1900 post card albums/300 cards each; FDR/Shirley Temple/local political pinbacks;
Erie RR inclu: 1926 photos of local rail construction: blueprints of rr bridge construction; Erie RR 30's to 50's magazines; timetables; memorabilia; mail bag; American Bridge Co. journals;
Pocket Watches incl: Longines/coin silver/hunter case; American Waltham Watch Co./train etching; Waltham P.J. Bartlett/17 jewel; Locle/Mathile st line lever; Edmonds London; Time Ball Special/Elk etching; ornate; rare Swiss Buttonhole watch; Westclox Art Deco Women's:
Wrist Watches: ladies 14K gold Tavennes 17 jewel/40's and 14 K Bulova ( both IB);vintage Elgin/15 jewels ; Seiko, Peniel, Mayfair; mens Elgin 10K gf;
Clocks incl: United Clock Co. TheTractor Clock; automobile clocks; Proctor & Gamble & Sessions wall clocks; Ansonia & Sessions mantle clocks; Westclox Big Ben & Art Deco mod S4; GE black Art Deco AB3F52; early kitchen wall clocks; lg selection clock parts & housings........ Zippo Lighters; Bowers & Austrian trench lighters; WW II 20mm wood ammo box; Daisy mod 27 bb gun; gun cleaning & fishing rods; D&M 200c baseball NIB; Milburn"s miner lamp;
Jewelry: lg selection of jewelry incl: 14K & 10K ring; assort sterling; '39 Worlds Fair bracelet; some vintage; costume; rosaries; jewelry boxes and more..sterling spoons/s/p/candle holders; Evening in Paris; perfume/cosmetic containers.....
Paper incl: books, 4 Gettysburg 1913-1927, 100 Years of Locomotive/Erie 1915, AAA Tour Book 1919, Lake Michigan to Puget Sound, Pullman Facts/Phamphlet, The Lackawana Story, Cataloque of the Century Exhibition Baltimore & Ohio RR '29, Household Physician '24, Homeopathic Treatment '05, Womens Medical 1886, Handbook of Boy Scouts '30, Maintenance of the Way'21, Story of Lucky Strick '38,The Train Boy, Horatio Alger, Ralph the Train Dispatcher '11, Aladdin Homes '19, early year books incl;'36 JHS vintage photos and more... early ornate frames; marbles; buttons; local advertising incl: Jamestown Finishing Products memorabilia; Humidor/pipes; 3 arrowheads; vintage Amertran Deluxe Audio transformer; humidor/pipes; ink wells; glass pen; metal car; police/Thunderer Whistles; early playing cards incl Erie;
Guitars: Oahu and sheet orchestrations; Allegro 345; Unmarked;
Records: lg selections 45's, 78's and some 33's & CD's
Glassware/Ceramic: Noritake Azalea childs set; RS Prussia plate; cut glass; salt glaze pitcher; Hall Poppy; depression glass; Heisey Rose; Russell Wright dinnerware; mid century kitchenware & plant stand; Fireking; Hull; 86 pc Grindley Victory china; Lefton Green Heritage Rose Tea Set/3068/3071/3065/3066/4577; milk glass; Lenox; Limoges; Bavaria; Candlewick and more; DAB Stein Grand Prix Paris 1937; bone china cup collection; bell collection; spoon & cup racks; early hats; furs; linens
Furniture: grain painted 1 drawer library table; fuedal oak buffet/brass pulls; 3 drawer Eastlake dresser; early ornate sewing table; Music cabinet; Art Deco bedroom set/dresser/chest/dbl bed/dressing table; Kling bedroom set/triple dresser/chest/night stands/bed; Merriam (Falconer) bedroom set dresser/dbl bed; ladies desk/chair; oak plant stand; corner lighted display cabinet; small 4 drawer chest; 3' oak desk; Kitchen table/chairs; Art Metal desk w/return;
Electronics:early Motorola Portable mod SF15R record player; Garrard turntable; Magnovox DVD/VCR tuner; Samsung/Proscan TV's; early Motorola box phone; Sony Trinitron & Sears Go AnyWhere TVs;Sony recorder; several vacs
Cameras: vintage Albert development tank; AGFA B2 folding camera; Brownie Mod A camera; Polaroid Sun 60; early telescoping tripods; Konica auto S2; Kodak Instamatic; Airequipt slide viewer; screen; assort phones; binoculars
Appliances: Frigidaire Gallery top freezer refrig; Whirlpool Estate HD washer; Maytag elec dryer; Magic Chef microwave; vintage Kenmore Ironette mangle; GE roaster/stand; small appliances; vacs/Hoover upright/elecrolux/Kenmore canisters/vintage Compact Electra; Regina rug shampooer; typewriters incl Smith Corona manuals & electric; vintage adding machines
Household: kitchenware; dishes; cookware; flatware and more...
Terms: Cash or check w/ID
---


Professional Auctioneers: (716) 664-1020 or (716) 640-1307
---