Spring Estates Auction

Sunday, June 2, 12:07 pm

Ludwig Auction Center 19 Cross St., Falconer, NY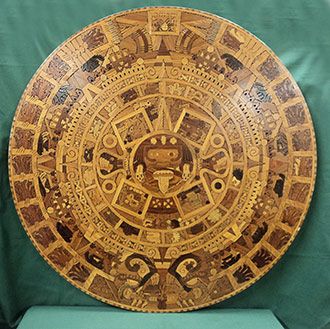 *** Click here ***
to view images of Auction Items

Contact Chuck Ludwig
Cell # (716) 664-1020; Fax # (716) 665-6617
Ludwig Auction & Realty
(716) 665-6614
Email: chuck@ludwigauction.com .

Liquidating the contents of several several local estates incl:
COINS @ 12:07: silver dollars incl: 12 Peace/1922,'23,'23;
7 Morgan/1886,87,88,1921; Ike 1971; Kennedy half '64; Mercury & Roosevelt silver dimes; wheat & Indian cents; 5 $1 silver certificates; partial book of Canadian small cents; full book of US small cents ('41-'71); 40 assort commemorative Russian rubles
GUNS & FISHING: British Enfield 303 w/ 13 boxes of ammo; Stevens Mod 820 B 12 ga shot gun, w/ ammo; early Hardy Bros Alnwick fly rod/bamboo case; Milward Hexacane fly rod/case cover; Shakespeare Ugly Stick/NIB; fishing poles/Shakespeare/Durango/South Bend and more; oak & metal fishing nets; boat anchor; metal ammo box
CAR: 1998 Chevy Lumina, 4 door, auto, 129K mi,
TRAINS: Lionel set, cars (most in box)/track/Train Master transformer & accessories; cars; #212 USMC engine, # 601750 USMC caboose, # 2020 engine & coal car, # 6807, 6803 & 6809 military flat cars, # 3540 radar scanning scope car, # 2419 D.L.&W., #6517 radio equipped car, #3927 track cleaning car, #3424 Wabash, #2560 crane car, #3450, Sunoco tank car, #253 signal, #3424-100 signal, #1022 manual switches; Fire Fox set NIB and some Plasticville.
UNUSUALS: Albert Johnson (early local Swedish artist) original oil on canvas/Swedish scene/1906 (sold w/ confirmation); lg doll house, replica of a local house/electrified/furnished; 31" B & H Gone with the Wind Lamp; early English photos/Hope's windows; early melodeon; 36" Aztec Calendar inlay wood wall hanging/8 diff woods/3,000 pcs; deco bakelite Kodaslide table viewer; 4'neon cactus; hand pt parrot cutouts; early 5' folding quilt rack; Gilbert Stuart/George Washington oil on canvas/unframed; Griswold #9 Tite Top German Steins; Dutch Oven; Konigl.pr.tettau "Picasso" coffee set; Imperial marigold footed bowl; IKEA child's Egg chair; assort recorders incl German; oil lamps incl 2 hanging/electrified; AVM Zippo, Hotel Samuels brush & local collectibles; pocket knives; banks incl: space ship mechanical bank; Nunda paperweight; early globe ripping knife; Garfield lunch box; framed prints; "My Own Plate" child's plate; wood carved figures; doll highchair; carboy; lava lamps; 33's/45's; collectible baby dolls/Uneeda/composition head; Barbies; Barbie Camper; porcelain head collector dolls; dome top & steamer trunks; foot lockers; German sewing machine 130/cabinet; early Zenith floor radio and much more…
CLOCKS: Junghans German oak mantel; Seth Thomas & Sessions mantel; Waterbury steeple; early miniature early mantle; 2 German cuckoo;
PAPER: many early posters incl: John Wayne movie, One of the 1000 YMCA Girls in France/1918, United We Serve, Back Our Girls Over There/YMCA/WWI, Give to The YMCA Local Fun, I'm Telling You!/WSS Enlistment, Ringling Brothers, Lake Placid 1980, History of Yankees, Buffalo Bills & more..1995 NFL Uncut sheet; 1942 Fortune mag; local publications incl: 1950 Urban Report Jamestown; Electricity & Politics Jamestown 1891-1931; Fancher & Monitor Furniture catalogs and more.. early magazines incl: Life/Mantle/Robinson/M. Monroe/Garland, Sat Evening Post/Rockwell; Colliers; Boys Life; Look and more..early books incl: medical '20s '30s; few sheet music; post cards; Fluvanna memorabilia; architecture catalog "Artistic Relief Ornamentation" 1916.
TOOLS: Stanley #45 plane in wood box; Rigid reciprocating saw; Dewalt circular saw; 16" mod 16-LLWT laser level w/ rotating tripod; Makita jig saw & cordless drill; Dewalt ¼ sheet sander; Hilti Hammer drill; pipe vise; tap & die set; socket set; Olympic mod 1410 wire length meter; Weller solder gun; drills incl: hd B&D; Angle drill head adaptor; B&D hedge trimmer; McCullough chain saw; several ohm meters & volt testers; laminate trimmer; tool boxes, hand & power tools; Dremel tool; multi-drawer cabinets; sump pumps; small Homelite gas pump; screw/hydraulic jacks; cutting torch set; chain binders; hand levels & saws; hardware/electrical; clippers; barricade flasher lights; hardware; nuts/bolts/screws/nails/fasteners/padlocks; chains; 6 panel & hollow wood doors; 16'& 40' ladders;
FURNITURE: 1940's walnut fall front cedar chest/clock/drawers/inlay; oak settee/from Chaut County bldg; mahogany corner cupboard; 35" server; oval mahogany depression style dining table/4 chairs/1 leaf; Jamestown Lounge 5' oak sofa table; cherry swivel card table; 6 drawer Eastlake chest/back splash/railing/painted; hammered gold two tier marble stand; depression style dining room set/sideboard/china/table w/6 chairs/carving; quality wicker settee; white wicker twin beds; caned rocker; early rope beds; upholstered bamboo style settee; Kling dbl bed and more…
APPLIANCES/Electronics: Whirlpool French door refrig; Hotpoint freezer over refrig; Kenmore dehumidifier; several window AC's; AC/heater combo; TV's incl: Vizio 32"; commercial hot dog steamer; IBM Wheelwriter; RCA VHS camcorder; pa access speaker cables, amplifiers, wall speakers
MISCELLANEOUS: excellent Berber rug 12' x 24'; Hubbell halogen parking lot lights; commercial hot dog steamer; cast iron wood stove; caster wheels; camera tripods; commercial Racal Breath Easy dust helmet; ski wax equipment; spinet piano; NIB vanity cabinet; retro patio & wall speakers; commercial evaporating cooling fan; toy wood parking ramp; Singer 404 sewing machine/cabinet; 36" rd marble table top; keg cooler; many folding & card tables; plastic tubs & moving blankets; many metal shelves; file cabinets; metal storage cabinets; wheel chairs; china set/pl setting for 12; household and much more…
TERMS: Cash or check w/ID 10% Buyers Premium MC/VISA