Real Estate
AUCTION
Raised Ranch Home with Lake View
Sat November 8, 2014 • 11:07 AM
2923 Rt. 394, Ashville, NY
(2 miles south from Lake Bridge at Stow)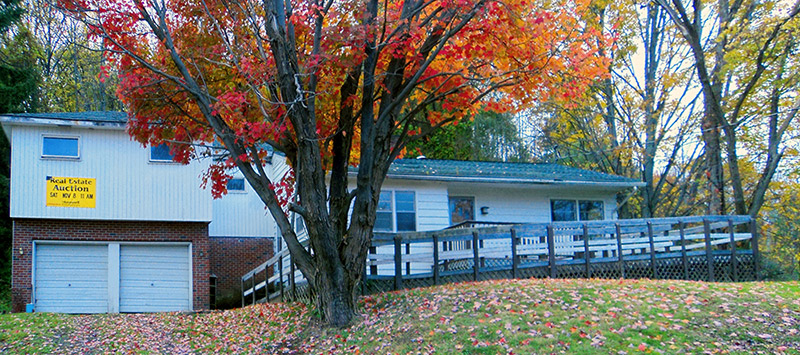 Real Estate @ 11:07 AM: A super opportunity to purchase a 3 bedroom, 2 bathroom house needing lots of work but with great upside or potential.
One family raised ranch house built in 1955
Town of North Harmony, Chautauqua County, NY
1,465 sq ft w/3 bedrooms & 2 bathrooms, full basement
Attached 2 car garage w/workshop built in 1984
Tax ID #: 349.00-2-56 (old): 11-1-10
Tax Assessment: $ 80,000@ 100% equalization
Full Market Value: $83,854 (by Assessor)
Lot size: Irregular, .7 acres
Road Frontage: 80 LF on Rt 394
Water & Sewer type: private
Utilities: National Grid Elect;
Utilities Available: elect, gas (Chaut Utilities), oil
Heat: elect & oil furnace
School District: Chautauqua Lake
Property Type: 210-1 family residential
Conveyance: Updated title search, Good Deed, No Liens
Terms of Real Estate: $5,000 down payment in cash or check.
Property sold "AS-IS" w/insurable title, no Liens, conditions, reports or new survey.
Auctioneer:
Ludwig Auction & Realty Co
P.O. Box23, Lakewood, NY 14750
Cell #'s (716) 664-1020 or (716) 640-1307