Historic Kelly Hotel & Tavern
AUCTION
Real Estate – Equip - Furnishings - Holdings
10759 Rt 20 (Stateline), Ripley, NY 14775
at the NY-PA state line, 20 mi. east of Erie & 60 mi west of Buffalo
Saturday Dec. 13 10:07 AM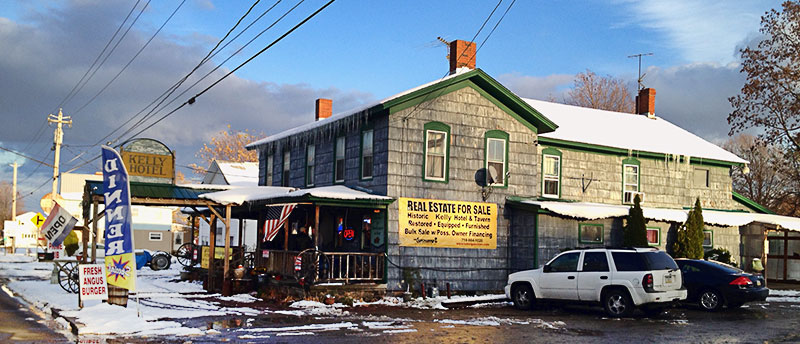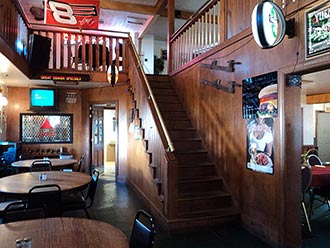 *** Click here ***
to view more images of items available

Professional Auctioneers:
P.O. Box 23, Lakewood, NY 14750
Cell #'s (716) 664-1020 or (716) 640-1307
Real Estate Auction: 10:07 AM
This fully equipped & furnished restaurant & tavern will be offered in bulk as a package before the equipment, furnishing & contents are sold individually by the piece.
The historic year round commercial bar & tavern consists of approx 3,800 sq ft w/ a seating capacity for 120 people. The building has a full basement complete w/ wine cellar and a walk-in-cooler w/ its own built-in tap system, a forced air heating & cooling system, a 20 camera security system & a 200 amp electric service. The property consists of approx .75 acres and has its own natural gas well. Tax ID # 256-12-116; Assessment $ 93, 800; Annual Taxes $4,250

Terms of Real Estate: $10,000 Down Payment & sold w/ good & insurable title, no liens & subject to a secured creditor mortgage.

Financing: Possible bank financing to a pre-qualified buyer:
Realtor Participation: Realtor Participation is invited.

History of the Kelly Hotel: Prior to 1801 Route 20 was an old Indian trail that passed in front of what is now the Kelly Hotel. Around 1824 James Truesdail opened a stagecoach Inn & Tavern on the existing property. In 1926 Harry and Nellie Kelly purchased the premises and made the name Kelly Hotel synonymous with good food, with steaks as its specialty. The Kelly's operated the business until 1945, after which several subsequent owners operated it as a bar and tavern. Since 2005 Kris and Karen Kubasik the current owners, have continued the 88 year tradition of providing fine food in a warm and friendly atmosphere. They have also made the Kelly hotel a very successful bus tour destination.
Equipment & Contents Auction: 10:37 AM
Equipment: 10:37 AM: Uny Touch POS system/2 stations/3 printers; Vulcan 12 burner, 2 oven ss range; 2 Imperial 2 basket fryers; Baker's Pride Charbroiler; Manitowoc ice machine; ss dishwasher w/faspray, 9' & 4' returns; 7' ss steam/work table; 5' refrigerated sandwich bar; Victory ss 32" refrigerator; 10' 4 head Ansul Fire Suppression System; 1 bay deep well work sink; 6' + ss True 3 door freezer; 8' ss Beveragaire bottle cooler; Toledo meat slicer; Cornelius 8 head ss soft drink dispenser; Kenmore chest freezer; Crosley upright freezer; Samsung & Amana microwaves; 30" ss work table w/can opener; Bunnomatic 3 burner coffee maker; glass door Pepsi coolers; 54" salad bar/wheels/sneeze guard; 7' ss 3 bay under counter sink; condiment trays; ss ice bins; 5' order holder; 5' heat lamp warmer; 4' pot rack; proof rack; Edlund scale; 4 slice toaster; carving station; Rival 18qt roaster; Cuisinart food processor; Vulcan salamander; slushy machine; Night Owl security system w/20 cameras; Sentry Safe w/key pad; TV's; TV projector; digital advertising machine; kitchenware; china; ss pans; pots & pans; flatware; chafing dishes and more… Furniture & Fixtures: 16' + bar w/brass rails; 10 slat back upholstered bar chairs; oval bar table; 3 bent wood bar stools & 10 chairs; 50 cranberry on gold stack chairs; 35 brown on black stack chairs; 3-4' round oak ped tables; tables incl: 52" rd, 9-4' ped, 3-30" ped, 4-36" ped, 2-30"rd, 4-36", 3-6' round; high chair/boosters; 4-leather wing chairs; waitress stands; Pool Table: 8' Value coin-op pool table Advertising: Large selection of advertising incl: Yuengling & Heineken lighted revolving signs; Labatt Blue lighted neon clock; lg selection neons; Coors Light pool table light; lg selection historic memorabilia & collectibles; Unusuals: Ad-Tabs coupon cards machine (facecardpromotions.com); vintage Edwards 55", 5 door oak refrig ice box; brass wall & hall trees; primitive bench; deacons bench; Martha Washington sewing stand; pitcher & bowl; 4 wagon wheels; milk cans; urns

Terms of Personal Property: Cash or check w/ID. 10 % BP MC/VISA