18 Hole Golf Course
FOR SALE
Woodcrest Golf Course
3583 Wall St., Rd., Mayville, NY 14757
(Town of North Harmony, Chautauqua County)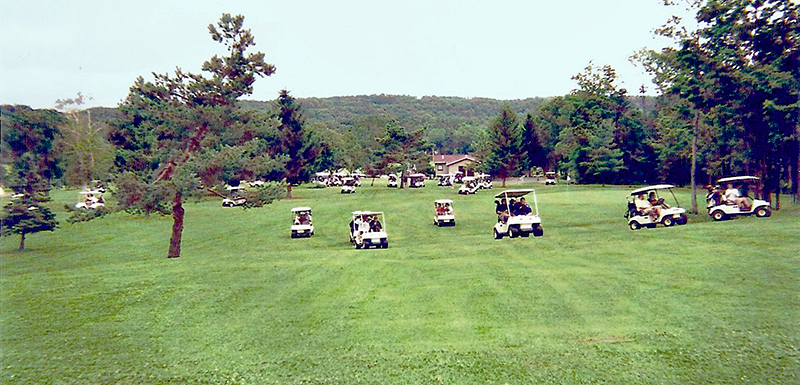 Selling a furnished, equipped and fully operational 18-hole USGA golf course, with 129 acres, as a turn-key business package and with possible bank financing.
The package includes all mineral rights, a clubhouse w/ restaurant, pro shop & bar area, a maintenance building with sufficient equipment to maintain the greens, fairways, tees & roughs, an entertainment pavilion, a one (1) million gallon lake w/ JD4045D hydraulic pump and a manual underground irrigation system with pop-up sprinklers around the greens and tees. The package also includes the furnishings and accessories necessary to run and maintain the golf course and the preliminary architectural site plans for several future building lots on the golf course.
The 5,923 yard, par 71, 18-hole regulation public golf course was designed in 1989 by Northwest Land Plan, of Shaker Heights, Ohio with three (3) sets of tees, a rating of 68.8 and a slope of 114. Golf Digest in 2002 stated that the golf course was located in "The Best Little Golf Town in America".

Terms of Sale: $10,000 down payment with no conditions & subject to the secured creditors interest.
Tax ID #: 330.00 - 1- Lots 5, 10, 11, 15 & part of 13 and 14
Assessment: $425,000, Total Annual Taxes: $10,000
Utilities: Private sewer ,water & chlorination systems, propane gas
Special Note: Seller is motivated to sell and can close immediately.
Pics & Complete Listing: www.ludwigauction.com
ASSETS INCLUDED WITH GOLF COURSE SALE
---
1 MAINTENANCE EQUIPMENT
• Jacobson LF128 Fairway Mower (4WD)
• Woods Rotary Rough Mower 12 FT Mow Capacity
• Core Master 12
• 5-Gang Spartan-Toro Mowers with Frames
• Jacobson Leaf Blower
• Jacobson Walk Behind Greens Mower
• Hydro 70 National Triplex 16HP Tee Mower
• Jacobson Greens King IV 16HP Greens Mower
• Jacobson Greens King IV Plus 18HP Greens Mower
• Jacobson Greens King IV Diesel Verti-Cutter
• Greenland Seeder/Spreader
• 2 Shindaiawa T270 Weed Eaters
• 50 Gal. 5HP Walk Behind Greens Sprayer
• 175 Gal. Diesel Tank
• 175 Gal. Unleaded Gas Tank
• 2 Yamaha G1's
• 3 Pull Carts
• 1 Gang Range Picker
• 1 Range Ball Washer
• Range Yardage Signs
• 18 New Flags/Poles
• 18 New Cups
• Cup Cutter
• Cup Setter
• 6 Bunker Rakes
• 4 Boxes Tee Markers
• 18 Tee Yardage Signs w/ Posts
• 4 Benches w/ Numerous Yardage Signs 2 IRRIGATION EQUIPMENT
• Underground irrigation system with pop-up sprinklers around the greens and tees.
• John Deere 4045D80 four Cylinder Diesel Hydraulic Pump, 4 x 4 x 13 Pump Drive Set
• 9 1" Hoses
• 9 Stationary Whirly Birds
• Misc. Irrigation Parts

3 WORKSHOP EQUIPMENT
• Gray Bin Shelving Unit and Work Bench
• 1 Parts Cleaner
• 1 Dayton Reel and Knife Sharpener
• 1 Foley Lapper
• Misc. Belts
• Misc. Spare Parts
• Golf Cart Tire Changing Equipment

4 PRO SHOP INVENTORY
• Alpha 600Sc Cash Register
• Sharp EP-A320 Cash Register
• 1 Box Score Cards
• 6 Boxes WCGC Pencils
• 9 Pin Shot Markers
• 1 Left Hand Men's Rental Clubs
• 3 Right Hand Men's Rental Clubs
• 11 Junior Rental Clubs
• 13 Range Baskets
• 1 Box Register Tape
• Titlest Display
• Titlest Counter Display

• 2 Practice Golf Mats
• Regrip Stand
• Brother Fax Machine

5 RESTAURANT/BAR EQUIPMENT
• Ice-O-Matic Ice Machine
• True Upright Refrigerator
• Pinnacle Beverage Refrigerator
• 10 Station Pepsi Wunder Bar
• True Sandwich Refrigerated Sub Station
• Coke Refrigerator Unit
• GE Stove
• Star Mini Oven
• Drinking Fountain
• GE Air Conditioner w/ Remote
• 7 Bar Stools
• 22 Chairs
• 4 Tables
6 ENTERTAINMENT PAVILLION
• 20 Pressure Treated Picnic Tables
• 1 3 x 8 Charcoal Grill
7 PORCH/DECK
• 8 Tables22 Plastic Chairs
8 GC ACCESSORIES
---
Contact
Ludwig Auction & Realty Co
P.O. Box 69, Falconer, NY 14733
(716) 640-1307 (716) 664-1020