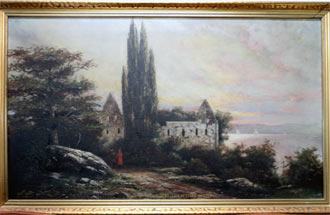 Albert Johnson Painting
Oil on canvas, dated 1906
Titled "Ruins of Visingsborg, Lake Vettern, Sweden"
*** Click for larger image ***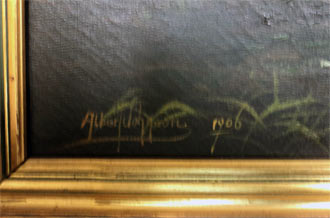 Albert Johnson Autograph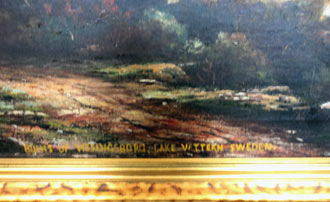 Painting Title
FOR SALE
Albert Johnson Painting
$ 4,500.00

The painting is a 36" x 22" oil on canvas, with gold frame, of the ruins of the famous Visingsborg Castle in the 1600's. This is a rare and unusual Johnson painting because the location and subject matter is hand painted by the artist at the bottom center of the painting.
Albert Johnson was only 21 when arrived in the United States from Sweden in 1891. He was an untutored artist with extraordinary talent who was best known for his beautiful nostalgic paintings of Scandinavian landscapes. Johnson described himself as a simple house painter of no particular merit. He was a significant contributor to Swedish and Scandinavian culture in Jamestown, NY. For 44 years Johnson's paintings and murals decorated the walls and rooms of the Jamestown Norden Club. However, in 1958 most of his artwork disappeared when the Norden Club building was demolished for a new post office. Johnson never seriously marketed his artwork and died in 1931. His paintings have since become highly prized and collectible.
Kathy Ludwig, CAGA
Ludwig Auction & Realty Co
P.O. Box 69, Falconer, NY 14733
Cell # (716) 640-1307
Fax # (716) 665-6617
Kathy@ludwigauction.com