Fall Estates Auction
Furniture – Equipment - Unusuals

Saturday, September 22, 10:07 AM

Ludwig Auction Center 19 Cross St., Falconer, NY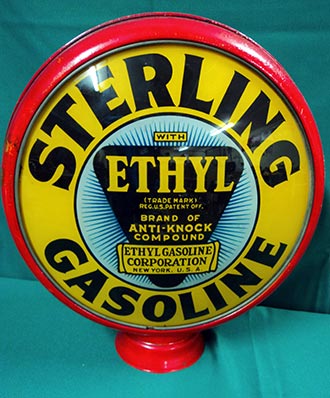 *** Click here ***
to view Art & Unusuals images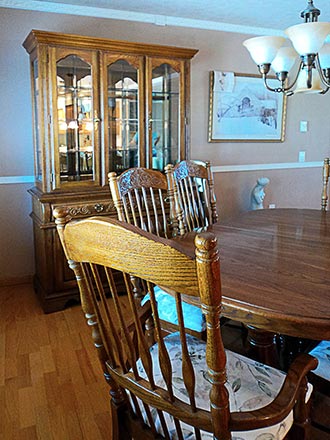 *** Click here ***
to view furniture,
Equipment & Misc. images

Contact Chuck Ludwig
Cell # (716) 664-1020; Fax # (716) 665-6617
Ludwig Auction & Realty
(716) 665-6614
Email: chuck@ludwigauction.com

Liquidating a quality retirement estate along with several other partial estates including:
Art Work: Andrew Wyeth "North Light"/hand signed numbered/certificate of authenticity (confirmation) & "Chambered Nautilus"; oil on canvas Walter Cronkite/autographed by Cronkite (confirmation)several Patchell-Olson; Hans-Junga; LeRoy Neiman "Polo Lounge"/signed litho; water colors & oils by Jim Rolick; Frank Yankovic autographed painting & record; early oils/prints; lots of original watercolors/oils; framed decorator prints; Wellsville Balloon Rally framed posters; portfolio of study pieces and more…
Unusuals: outstanding Sterling Gasoline gas globe/Mountain City Gulf gas station Kane PA; 1927 Lloyd Loom baby sulky; lg selection architectural items; very early Gien French earthenware/63 pcs; early Czech canister set; silver dresser sets; cameo glass vase; early Jamestown glasses/Jigs & Bob(Harrison & Foote)/Malta's Grill(opp Shea's)/Brown Derby (3rd St); local milk bottles; 1912 PA license plate; Scotty dog brush holder; early tricycles/Troxel; galvanized water cans; Dobbs Hat salesman sample tin; Model Smoking Tin; vintage clothing; lighters incl; Zippo '98 Limited Edition, '97 Light the Right, long lighter, Wellington Balboa John Deere, Oasis Cigarettes, gun (Made in Occupied Japan), Ronson; vintage wire waste basket; 1928 Charlie Chaplin 8mm film; 25 Seraphim Angels IB, (Evangeline, Isabel, Lydia, Dawn, Rosalie, Gabriel, Tess, Sabrina, Alexandra, Angel's Touch, Heather, Laurice, Harmony, Monica, Noelle, Amelia, Melody, Chelsea, Cymbaline, Ophelia, Iris, Diana, Mariah); Alfred Meakin China/Lake scene; dome top & metal trunks; early screen door; white iron garden bench; garden statues; WWII parachutes & book from the 503d Parachute combat team; blown glass chandelier/parts; ornate brass chandelier; oak doll dresser; Happi-Time Pinball/5 games in one; early needle work; andirons & hand wrought fireplace set; spinning wheel; early light fixtures/globes; 18" cast bell, 7.5" brass school bell; early campaign pinbacks/Vari-Vue JFK; Schatz & Wurthner Anniversary clocks; Mrs. Potts sad iron; 16" chalk ware vase; Nippon; Coca Cola collectibles; dolls incl: Campbell Kids/Horsman Bride & Groom, Wicked Witch of the West, porcelain collectible and more…Pez NIB; wood carvings; wood tripod; fishing poles; lg clay water jug; ornate brass urn; frames; full size mannequin; Indonesia shadow puppets; Tiger maple mirror; Carrom board & play pieces; 1967 Henderson-Hoggard figural hangers; Made in Russia folk art bowl; hobnail scent bottle; hd pt china; glassware; pottery; primitives; lg selection of early frames; 3' glass globe; early horsehair throw; Hop Ching Chinese checkers board; ball globe/hd pt; brass coal bucket; autographed items incl Andre Reed game jersey; lg sel early frames; stain glass; early gas/oil lamp parts; fireplace set; collector plates; early valentines/framed; Daytona 1986 Harley beer can; insulators; rag doll costume; poodle skirt & crinoline; cameras incl: Viceroy Super 8, Kodak Brownie, Pony 135mm & Disc 3600, Brownie Super 27 IB and so much more….
Teaching Material: huge selection of like new teaching material incl: games, puppets & stand, blocks, toys, crafts, flash cards, books and much more…
Furniture: early empire chest; early pine fall front desk; Jamestown Lounge Governor chair; 40's dining room set w/carving/china/sideboard/table w/leaf/6 chairs; 8' modern black table w/8 black slat back chairs/cushions; Aristocrat 5 pc all weather wicker set/like new; early wicker sofa/cushions; tambour desk; library table/carved legs; black lacquer 2 drawer end tables; Heywood Wakefield end table; art deco style cabinet; early Eastlake style fall front desk; oak dining room table/6 chairs & china cabinet/like new; oak Buckingham entertainment center w/2 side cabinets; King Hickory sofa and oversized chair/like new; oak bedroom set/dresser/Queen hd bd/chest/wardrobe; queen bed/ornate iron hd bd; 8.5' floral sofa; lg guild mirror; 3 black lacquer curved cane back upholstered chairs; blue/white upholstered chair; bamboo folding shelf; 3 oak bookcases; 2 Lane cedar chests; early canvas chaise; white wicker bedroom set; Dowd round back folding chairs; early oak half back chairs; early oak low back & cane seat chairs; Tiffany style floor lamps; hall trees; child's spindle back chairs; presentation rocker; computer table; 4 swivel wicker bar stools; early ice cream chairs/repair; jewelry case; fouton; garden benches; sm butcher block table; 2 wardrobe cabinets; wood glider and more..
Equipment: ( all items well cared for and in excellent condition) Cub Cadet mod 3184, 44" deck, power steering, hyd deck lift, variable sp trans/like new; Craftsman Professional lawn vac; Agri-Fab tine de-thatcher; Craftsman push mower; Craftsman Limited Edition 10" table saw; 8" table saw; Shop Smith 20" scroll saw; Craftsman 1 hp 8gal compressor; Rotozip Revolution spiral saw; Craftsman finishing sander & belt sander; Kollman K-Spin 2 1/8 hp skilsaw; Craftsman Miter box/saw; Wagner power painter; Milwaukee Precision hot tool; Servistar compressed air sprayer; Champion hd grinder; Workmate 200 table; lg work bench top/vise; 14" Monocottura tile cutter; drill bits; ladder utility shelf; hedge trimmer; Craftsman 16 gal wet/dry vac & trimmer; hand & garden tools; torpedo heater; wheel barrow; garden utility wagon; industrial hose reel cart; featherlite weedeater; multi-position ladder; cutters edge and much more…
Miscellaneous: Luminarium outdoor hearth/burns fuel; unusual standing lighted terrarium; 2 quilters work stations/like new; Fiskars cutter; Steady Betty; Amana refrig w/wood panel front & glass top range; Bushnell Voyager telescope/stand; room size carpet; wheel chairs; mirrors; Lucite circular display case; countertop Samsung refrig; Holmes humidifier; Whirlpool dehumidifier; Sharper Image air purifier; Sony Digital voice recorder; Mikasa Woodland china NIB, 4 pl settings, pasta bowls & serving pcs. ; Noel/Salem china; stemware; hundreds of candles/NIB; Mongolian wind chimes; books; hard case luggage/new; lg selection of plant urns & rollers; CD's; Christmas, trees, ornaments, lights, lighted reindeer; 14 wood storage cubes; silk flowers; holiday décor; decorator lamps; file cabinets including lateral; 36" & 25" TV's;

Terms: Cash or check w/ID 10% Buyers Premium MC/VISA
Auctioneers Note: Items in the retirement estate are all like new and well maintained…something for everyone in this auction !