Coca Cola Aollection Auction (30 year collection)

Sunday, August 19, 12:07 PM
Ludwig Auction Center
19 Cross St., Falconer, NY
*** Click here ***
to view more images
** 3 New Photos added 8/14/12 **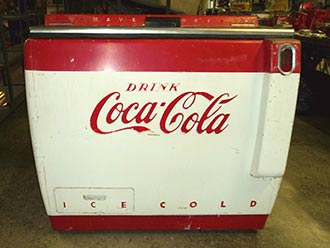 Contact Chuck Ludwig
Cell # (716) 664-1020; Fax # (716) 665-6617
Ludwig Auction & Realty
(716) 665-6614
Email: chuck@ludwigauction.com .

Liquidating a 30 year collection of Coca Cola memorabilia covering 8 decades (most NIB) including:
Signs: 36" button; 1962 flange "Enjoy That"; 1979 menu board; 1970's 45" x 27" menu board; 1957 adv signs; Santa cutouts/large & small; huge selection of cardboard and banner advertising including many sports themes; lg Kodak Santa cutout
Paper: blotters/1923 "Delicious & Refreshing",1935 "A Home run…", 1941 "Pause that refreshes", 1944 "How about a Coke", I Think it's Swell", 1957 "58 Million A Day";1936 framed ad; 50's & 60's score cards; early book jacket; 30's Nature Study Cards/complete set in original box; No drip bottle protectors/'42 "Take Along A Carton"/'46 A Drink with Lunch" & "Take A Minute.."/'48 "Every Bottle Refreshes"; National Geographic ads collection 1933-1965/nearly complete; magazine ads '36 Time/'67 Life; 50's checks; 1940 Flower Arranging book/envelope; lg selection assort calendars including 1962 Audubon Birds of America; 40's score pad, notebook; 1943 Fighting American's Planes cards; 1950's fan "Quality Carries On"; 1923 Flower cards/World of Nature; 50's book covers; 70's bang guns; postcards; selection of collectible guides including Petretti's;
Coolers: 40's Westinghouse 6 case Master cooler/works/good condition; 40's/Progressive Refrigerator Co. & 50's metal coolers; early cardboard picnic cooler/Gardner Board & Cardboard Co.; 50's vinyl cooler bags; insulated lunch kit;
Clocks: 1948 button clock; 70's light up; clocks NIB; Polar Bear Alarm clock
Bottles: early Rochester NY 30 oz clear; 4 – 50's gal glass jugs in original box; Commemorative bottles/'76 Grand Opening of Pembroke Plant/Bear Bryant/Joe Paterno'88 Winston Cup Bill Elliott/'84 Super Bowl/'83 Kentucky Derby & Orioles/'84 Olympics/'96 Atlanta Olympics; 1902-75 yrs; filled bottles in carriers/'95 Ripken/'97 Winston Cup; empty bottles/Heinz Field/Dale Earnhardt; Springfield Ohio; bottles in plastic carriers
Trays: lg selection of trays including: '59; '41 Girl w/skates; 80's City of Palms, The Peabody, Crescent Hotel, Santas, 75 Years of Aloha; Calgary and more..Houston Bottling Co.; 50's TV trays; '92 Olympics; '80 Georgia Bulldogs;
Clothing: Kit Carson bandana 1953/red; early soda jerk hats; full uniform 60's ?; 70's bell bottom pants, jacket, backpack; patches
Miscellaneous: 1930's aluminum pretzel bowl;1930's pencil box/complete; very early ice pick/IB/"Delicious & Refreshing"; 50's bottle carrier; 1950's matchbooks; early wire bottle openers; 1967 World dishes; 60's diamond can; 1970's Cleveland Indians backpack; full sets of 1976 7 Up United We Stand cans; Buddy L, Hartoy, Remco CC trucks NIB; Matchbox NIB; '53 Ertl truck model banks; toy plastic soda dispenser; 1994 German steins/Traveled Refreshed (1st lidded, Limited Edition)/Home Again/Touring Car/Soda Fountain; 70's Lone Ranger Original Radio Broadcast; 50's Eddie Fisher 45; Big Can-Do folding Coke can camp grill; Grill NIB; 60's Santa; pins including: Super Bowl, Polar Bear Olympic, '96 Atlanta games; 1986 Barbie & accessory pkg NIB; life size cutout of Jeff Burton; 70's pin back buttons; lg selection bell glasses; Old Milwaukee umbrella in stand; paper fountain cups; lunch bags NIB; miniatures; lg assort of playing & collector cards NIB including Don Mattingly; cookie jars; phones including: Disc Blinking, Animated Polar Bear, poster speaker phone; talking mug; '89 dancing can; puzzles; "Do Unto Others" rulers; lg selection Christmas ornaments NIB; music boxes; post cards; Leonard 6 Spy Camera and so much more….

Terms: Cash or check w/ID 10 % BP MC/VISA
Call 716 640-1307 for more info