Chautauqua Music Store Complete Liquidation
SALE & AUCTION

Mark Down Sale: 11 AM – 6 PM
Thur – Sat July 19-21
Wed - Fri July 25–27
Auction: Sat July 28 10:07 AM

110 East Second St., Jamestown, NY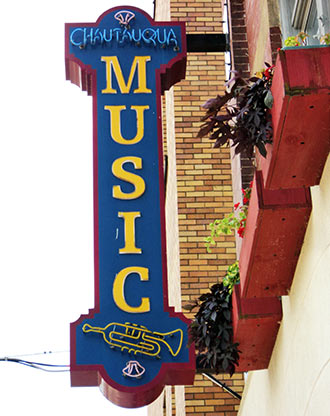 *** Click here ***
to view more images

Contact Chuck Ludwig
Cell # (716) 664-1020; Fax # (716) 665-6617
Ludwig Auction & Realty
(716) 665-6614
Email: chuck@ludwigauction.com .
After 40 years, Chautauqua Music is liquidating their entire store to the bare walls including all musical instruments, audio equipment, parts, accessories, supplies, furniture & fixtures including:
Musical Instruments (new & used): Yamaha YDP 140 digital piano; early Marimba by Deagan; Wurlitzer walnut console piano; Outstanding Victorian organ/Sterling Company Derby, Conn.; Peavey, Indiana, Yamaha Pacifica, Fender Squire Tele, Epiphone ES 333 electric guitars; Indiana, Yamaha & Yamaha FG 720's acoustic guitars; Yamaha FG 720's and Indiana Scout 12 string guitars; Indiana Scout Acoustic electric guitar; "Learn How" DVD; Rocky Top banjo; Johnson electric violin: Ukulele; Indiana half size guitars; bass, cellos; violas; violins (1/10, ½, ¼, 1/8, ¾ , 4/4) & new Anton Breton; clarinet; cornets; French horns; oboe; saxophones; trombone; trumpets; snare drums; Hohner harmonicas; tambourines; cymbals; Crucianelli accordion in case; penny whistles; recorders and more….
Accessories: all band, orchestral & quitar accessories incl: strings (acoustic/electric/bass/classical/single/mandolin/banjo); reeds; drum heads; bass drum pedals; drum & guitar stands; drum sticks; guitar & drum cases; gig bags; instrument bags; guitar parts, tuners, picks, straps, amps & speakers; selection of mouth pieces for brass instruments; instrument and music stands; keyboard stands; metronomes and more…..

Sound Equipment: Peavey 16 channel mixer; Nady Audio RMX 6 channel mixer;50' Rapco snake/20 channel; Peavey Ecoustic 112 amp; mbt K-401 4 channel chase controller; Peavey speakers: PR 10, PR12, SP5, Headliner 410, Impulse, Classic 30; SHS Audio; assort Jensen & Peavey speakers & components; speaker stands; Tour Series 450 bass amp; microphones: Audio Technica wireless, Shure Beta 87, Audio technica regular & AT 853 H-ELE wireless part, Pro 44 condenser mic, Rapco accessories & cords; mic stands; Cough Drop; Peavey foot switch/2 button stereo; guitar pick ups including Barcus Berry; I Spot Combo Packs; Digitech & Behringer guitar pedals; CAD 4 pc drum mic; Vamp bass tone toolbox; Digitech modeling bass processor; AC adaptors; Audio Technica ATW-R250 VHF receiver; Peavey monitors; waistband amp system; early Phase Linear Mod 400 amp; Hosa audio cables, midi, patch etc.; Direct boxes;
Gift Items: Neon guitar & sax lights; throws, ties, mugs, glasses, bags, flags, posters, CD's, figurines, jewelry, music theme clocks and more.
Books: music books for all instruments, lesson books, Christmas, instrumental, piano, popular collections, wedding, love songs, classical and more…
Office: 4 drawer file; lateral file; Minolta CS Pro 1030 desktop copier; 2 desks; wood shelves; music cabinet; office chairs; Sharp fax and microwave; phone system; Lasko heater and more….
Fixtures: lg selection slat board & accessories; 2 lighted glass display units; counters; wood risers; Crumar keyboard display: book displays; gondola shelving; bins; Harmonica case; magazine racks; cymbal display; drum stick display; steel shelving and much more..
Miscellaneous: early & new stage lights; 2 bench weight set; Weslo tread mill and so much more…
Terms for Auction: Cash or check w/ID 10 % BP MC/VISA
Call 716 640-1307 for info