Michael Miley Estate Auction
Real Estate - Workshop

Saturday, July 30 10:07 AM

6595 Westfield-Sherman Rd. (Chestnut), Westfield, NY
(2.3 mi south of Main St. in Westfield)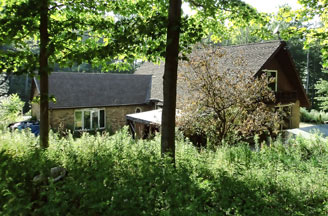 *** Click here ***
to view Real Estate images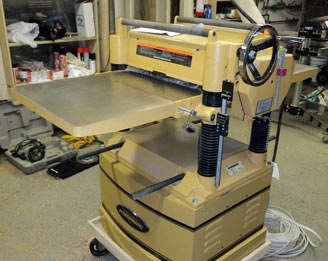 *** Click here ***
to view images of auction items
Contact Chuck Ludwig
Cell # (716) 664-1020; Fax # (716) 665-6617
Ludwig Auction & Realty
(716) 665-6614
Email: chuck@ludwigauction.com
Michael Miley was a skilled union carpenter with a fabulous collection of high quality woodworking tools & equipment. Liquidating the real estate and contents to the bare walls. All equipment is like new and portable.
Real Estate 10:07 AM: Real Estate Features: Spectacular 4,120 sq ft country home w/3 bedrooms, 3 baths, basement, fireplace, central heat & air & a 3 car garage. The house is situated on a 5.3 acre secluded, wooded parcel with a beautiful deep pond and a one room Adirondack cabin. Private water & septic. Assessment: $208,900 (84%) Tax ID: 226.00-2-50
Terms of Real Estate: $5,000 day of auction, balance of 10% of selling price due in 3 days
Equipment and Tools: Powermatic mod 209HH 20" planer, 1 phase, sn 803209HH0949; Delta 8" Professional Jointer sn 99176673; SSC/Skil mod 5860-T2 panel saw, 8" blade; Delta Dust collection system mod 50-850, 1 phase; Craftsman 25 gal 175 psi, 2 stage and 20 gal compressors; Vega wood lathe, 1 phase; 5 router tables, Woodpeckers PRL-V2 w/PC-7518 router motor, 2 Rout-R-Lift w/Makita 3612 and Freud FT 2000E, custom built w/Porter Cable mod 7539 router; Bosch mod B 1450, Makita mod 3620 and Porter Cable mod 6931 routers; Porter Cable portable router table; large assort router tips; Delta Shaper/Rockwell motor; Craftsman 12" bandsaw-sander; Performax Shapro 25 table finish sander w/Lesson 1.5h motor; Craftsman radial arm saw, 10" blade mounted on tool chest; Craftsman Contractors Series 20" industrial rated drill press, ¾" chuck, 12 sp, hd cast iron table & base; Delta Bench Oscillating spindle sander mod 31-780; Jamerco JT100 cartridge .22cal fastening tool; Makita mod LS1430 355mm miter saw; Makita mod 2414B 14" chop saw; Makita mod LS1211 sliding compound miter saw; Makita mod 2711 10" table saw; Craftsman mod 113.298240 10" table saw on custom production table; cutting torch set w/steel cart; Delta P9947 1" belt/5" disc sander; Craftsman dual wheel grinder; Dewalt mod DW 474 7" angle grinder; B & D 7 ¼ " worm drive saw; Bosh mod 3272 hand planer and mod 1587AVS jig saw; Craftsman industrial random orbit sander; Makita mod HP2010N variable speed ¾ "hammer drill; Makita mod 6820V and mod 6820 dry wall screw driver; Milwaukee magnum hole shooter; DeWalt DW 788 20" scroll saw; Makita mod 5005BA 140 mm circular saw and mod 9501B 100 mm disc grinder; Makita mod B05010 5" random orbit disc sander; Accuset (Senco) mod A100 MP 1" micro pinner; Spot Nails finish nailer; Rockford ¼ " collet air die grinder; Makita cordless right angle drill; Duo-fast framing nailer; Power grip glass movers; 20 gal parts washer/never used; Handi tool HT300 sealant/adhesive dispensing unit; Enerco Heat Star 125,000-170,000 BTU propane torpedo heater; 20 gal propane tanks; Sears kerosene torpedo heater; Husqvarna 371K mason saw and 365 18" special chain saw; Durocraft mod SP30 bench drill press; Hipur Steinel advance bonding system; Campbell Hausfeld HV 2500 Professional paint system; Duo Fast finish nailers; B & D hd reciprocating saw; 50' retractable air hose reel; Porta-Nailer floor nailer; Reliant Master dovetail machine; Leigh D4 jig; Delta mod 22-540 portable planer; Delta mod 32-100 plate jointer; Wagner moisture meter; Porter Cable mod 6645 Quick Drive dry wall driver; lg vice on stand; Weller soldering kit; 2 & 3 ton floor jacks; 3 ton jack stands; Ingersoll Rand mod 315 stright line sander; sump pump; selection of Craftsman larger rolling tool boxes; many multi-drawer cabinets w/supplies; Dado Excalibur elite blades; Rotor-Zip spiral saw; Kesson 200' measuring tape; approx 100 lg, small and C clamps; furniture clamps; 4 sections pallet racking; 1 set scaffold w/casters; Lincoln Arc welder 225amp; Delta mod 23-700 wet/dry grinder; Triton Super Jaws; 6 wheel creeper; shop vacs incl: Craftsman 16 gal wet/dry vac; Emglo air mate compressor; 3 sets metal saw horses; work lights/stands; Workmate 425 bench; rollers; pipe cutters; wrenches; socket sets; coping/trim saws; files; sheet metal shears; precision tools; allen wrenches; drill & rethreading drill bits; counter sink drill bits; jointer knives; carving chisels; hand planer blades; hundreds of boxes of nails/deck screws/screws/nuts/bolts; boxes of hd casters; construction supplies; fasteners; cords and much more…..

Miscellaneous: Endless Pool 10' x16' #621-S MC Kit; 2-12' I beams; 4-5' I beams; over 600 sheets of 3" x 2' x 4' foundation insulation; 4-6 cord of wood; 10 sheets 4 x 8 flake board; 100's oak/pine 8-10' finish lumber; 4 x 4 sheets of cedar; spools of service wire; 2- new 82" x 36" steel security doors/frames; rubber interlocking mats; Husqvarna weed wacker; wheel barrow; cast iron school bell; lg log hook; pocket knives/Case; Crescent & Proto wrenches; "Carpenters & Builders Practical Rules"/D.A. Rogers 1920; wood wagon wheels; 23-12oz cans spray foam insulation; fishing rods; garden tools and more..

Household: Maytag oversize capacity hd washer & dryer; rd oak dining table w/2 leaves, 8 oak chairs; 3 high back oak swivel bar chairs; selectamatic bed; wicker set/sofa/2 chairs/coffee table; Flex steel oak recliner; upholstered recliner; office chair; Bose speakers only; 40" Sony TV; 60" Hitachi TV; Sharp TV-VCR; 30 " copper planter; southwest décor accessories including saddle blanket, Hamilton collector plates; cookware; dishes; some linen; small appliances; Pakistan 45" sword; Eclipse machine; 3- Monster Power Home Theater Power Center HTS 2500; Kodak mod 5300 all in 1 speaker; RCA DVD & Sony VCR players; VCR tapes; Sony wireless keyboard NIB; Ford car radio/CD player; NIB V Tech 4 phone system; AIWA cassette/CD player and more..
Terms of Personal Property: Cash or Check w/ID 10% Buyers Premium
Call 716 664-1020 for more info