Restaurant Liquidation
Alfies Restaurant - Smuggler's Cove
SALE & AUCTION
SALE: Sept 15 - 17 10 AM - 7 PM
AUCTION: Saturday Sept. 19 10 AM
986 Fairmont Ave., Jamestown, NY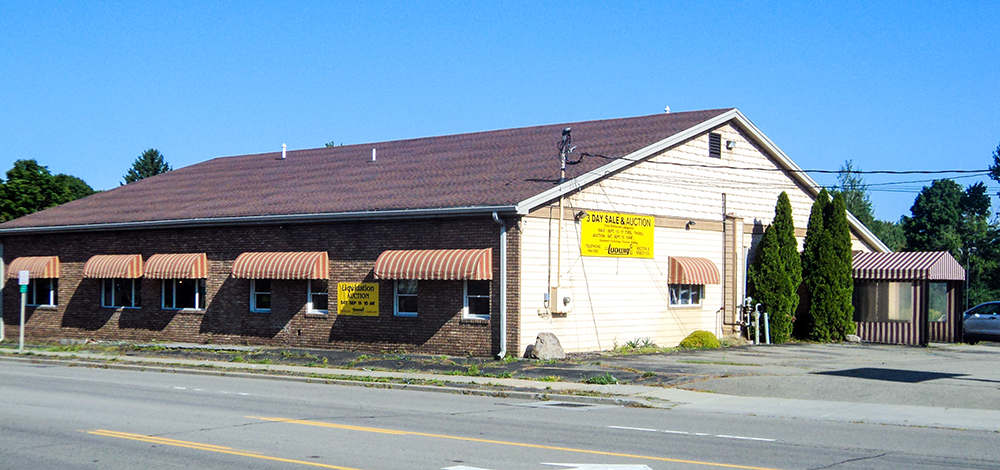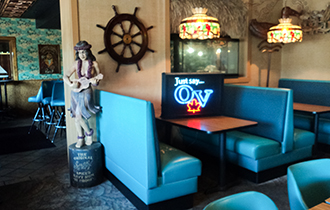 View more images of items available
below listing

Professional Auctioneers:
P.O. Box 23, Lakewood, NY 14750
Cell #'s (716) 664-1020 or (716) 640-1307
*Please Note*
Masks are required and please maintain social distance
---
Alfie's Restaurant ( Smuggler's Cove) is closed & will be demolished. All equipment, furnishings, fixtures & HVAC's will be liquidated w/a 3 day on-site sale & will end w/an on-site Saturday auction.

Walk-Ins: 2 ICS units/compressors on skids/8' X 10' cooler, 10' X 20' freezer; 8' X 8' Storeflex cooler/break down & compresser

Furnaces & Boiler: 3 Carrier 93 Performance HVAC systems 2007; Teledyne Laars 160 PSI boiler

Intake & Exaust System: 24 ft ss, 2-2 speed exhaust fans on roof, 3-2 speed intake fans on roof, filtered, interfacing trunk system, Range Guard fire suppression system w/10 heads

Point of Sale: Micro Mod 3700/4 station with remote printers
Security System: 6 open eye camera security system/2 monitors
Equipment:Hobart mod 84145 food processor/like new; Hobart table top mixer mod A-200 & 2 Hobart 12" slicers/mod 2912/like new & 1712; Beverage Air 7'upright freezer/like new; Pitco Frialator 3 well/6 basket/self cleaning; Fry Master deep well 3 basket; Vulcan 6' 6 burner gas griddle on 6' ss equipment stand; Garland 8 burner gas cooktop on 4'ss equipment stand; 2 Beverage Air refrig sandwich bars; True 66" refrig sandwich bar; Blodgett Zephaire stacked convection ovens; 4' Ice-o-matic w/Manitowoc compresser; ADC Forty-Four ss dish washer/7 ½' drain board; Alto-Shaam stacked convection ovens; ss shallow well sink w/horseshoe drain boards; Beverage Air 2' glass door refrig; Toastmaster ss 4 drawer warmer; 8 Amana commercial microwaves/1 NIB; MAXX Cold 5' dbl door ss refrig; Bird mod 34 meat band saw; GE refrig; 10' ss 3 bay sink w/drain boards; 6' butcher block bakers table w/can opener; ss work tables 8', 7', 3-6', 5', 3-3'; 10' & 7' ss work tables w/shelves; 2 pass through warmers; 6' hanging pot rack; 6 tabletop popcorn machines; chest freezer 29"; 2' bar sinks; fiberglass utility sinks; Eagle bar sink & ice bins; Beverage Air mod DW64 bottle cooler; 6' ss 3 well underbar sink; Glass Pro glass washers/1NIB; 12' refrig back bar; Waring Xtreme blenders/1 NIB; ss 5 head beer tap dispenser; Hollymatic Super mod 54 food portioning machine/on stand; many 5' aluminum dunnage & pan racks w/pans; 4-43" cabinet bases w/formica tops; Always Can aluminum storage rack; lg selection refrig/freezer shelving; Star Grill Express sandwich grill; 2-Nemco lettuce slicers; tomato slicer & wedger; food scales; hot fudge machine; Tetley Ice Tea 2 tap dispenser; lg selection fatique mats; Avanti 18" glass door table top refrig; 2 ARW Wott 4 qt warmers; table top food warmer NIB; Taylor Receiving Scale/NIB; Margarita blender; Savory pop down toaster; Maytag washer & dryer; 14 tray stands; Dayton & Techuseh compresser motors; Samsung ER 350 cash register and more...
Furniture:folding tables 6-8', 6-6'; 20 dk blue & 7 light blue upholstered bar stools: 38 blue upholstered barrel chairs; Fancher chairs : 46 curved top solid bottom, 51 curved top padded bottom, 30 wd straight top chairs; 20 red upholstered barrel chairs; 56 black on black stack chairs; 12 black on gold stack chairs; : 6 wood highchairs; boosters; 42" oak bench; blue upholstered booths, set of 3, 6, and 2 lg; blue upholstered benches 8' & 6'; red upholstered booths, 60" tables/set of 4 & 2, 44" tables/set of 5; wood grain top ped tables, 9-5', 6-4', 5-30", 4 -36"; wood grain round tables, 4-36", 6-48", 4-60"; 20 ped basses; 6' wood slat bench; portable Screen-flex partition 80" H 10'W; 6' hostess desk; matching office furniture: 2 dbl ped desks, 44" credenza; 3 cabinet bases w/formica tops; 8'x4' mirror
Kitchenware:Many supplies NIB.... white china incl: plates, platters, soups, pasta, mugs, rarebits; flatware; steak knives; onion soups NIB; steak platters; glasses incl: wine, rocks, hi-ball, Margarita, martini, brandy, beer, soda, advertising & more..; 10 chafers; lg selection ss hd hot food pans & insets; food storage containers; stock pots; fry pans; sheets; trays; baskets; coffee pots; 4 section pasta cooker; condiment holders; kitchen utensils; dish washer racks; bus tubs; chefs coats NIB, hats; aprons; tablecloths; menu holders; lg selection kitchen supplies & canned food
Advertising: neons/Just Say OV/Budweiser/Labatts: '89 Michelob Light sign; Smugglers Cove sign; Coors lights & 2- 4' pool table lights; mirrored signs incl: lg Capt Morgan; Sailor Jerry Spiced Rum figure; Alfies shirts/hats
Miscellaneous:steel manual overhead door 5'X 12'; 8 stain glass hanging lights; 3'lobby chandelier; TVs incl 3 flat screen 42" & 30" w/wall brackets; lg fish tank; crystal balls; lg selection fatique mats & rugs; Sentry & steel floor safes; 24" fan; Javelin security system; Yamaha speakers/Mod S112H; 16 ceiling speakers; mannequins; office supplies; cash drawers; ceiling tile NIB; lg sailboat model; lg metal bird sculpture; many collectible wall décor & framed prints..
Fixtures:17' x 9 ' horseshoe bar/ft rail; quality bathrooms/toilets/sinks/baby changers/grab bars/partitions; wall, Exit & Emergency lights; knotty pine paneling/moulding; ceiling tile; window coverings; all interior & exterior doors & windows; port hole windows; florescent ceiling lights; outside lights & awnings ; building siding; ss outside roof fans; carpeting and more...

Terms of Personal Property: Cash or check w/ID MC/VISA 10 % BP at Auction

Removal: Contents must be removed by Thursday, Sept. 24

Call 716 664-1020